News Final news for participants
June 6, 2021
Its a balmy 30 degrees in Darwin this Sunday as we head into the ChangeFestNT21 week. There is a lot of work going on and a good deal of excitement as this event comes to life through the many community members and change makers who are involved in this work and coming to Palmerston.
On Tuesday morning you are heading to Goyder Square in the centre of Palmerston opposite Palmerston Library.  The map is here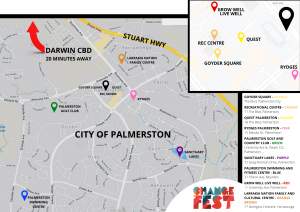 The updated in-person program and the online program are both up on the website. There are still a lot of things to sort out and finalise as community members, National conveners, local hosts, speakers, suppliers and all the helpers energies converge.
Take a look at the page of speakers to get an impression of some of the people you will hear from.
We look forward to welcoming you, feeling your care and determination for change.
Pippa and Romana