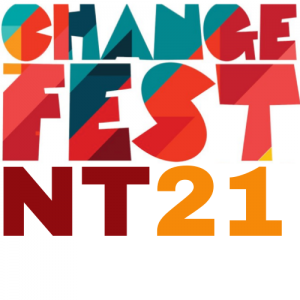 ChangeFest NT21 was held over 8-10 June 2021, on Larrakia Land in Palmerston Darwin, and online.
Palmerston was the host location led by Palmerston Indigenous Network, Grow Well Live Well and a range of individuals who had been on the journey to organise ChangeFest for the past year.
Themes that emerged from the co-design process in creating ChangeFest NT21 were:
The unlikely benefits of COVID19
Showcasing how First Nations are leading in the NT
How could community plans help set national agenda
Celebrating collaborative wins from around Australia
A Power Governance and Leadership Hackathon to explore the systems and structures AND how they need to change
How to respect and reward Elders
Young people leading Climate Action
View the the program to find out more about ChangeFest NT21
Meet some of the speakers from ChangeFest NT21
Read the ChangeFestNT21 Directors report
THANK YOU PALMERSTON FOR ChangeFestNT21
Big thanks to Larrakia Elders, Palmerston Indigenous Network, Grow Well Live Well, the local host group, national conveners, all of the funders, volunteers, suppliers and everyone who came and participated in ChangeFestNT21.
The handover to Tasmania for ChangeFest22 took place in Sanctuary Lakes, Palmerston led by Aunty June Mills:
'The Country is alive, you are never alone.'
Watch the initial invitation to ChangeFestNT21: