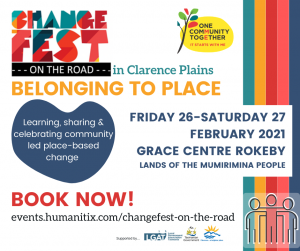 Book your place through humanitix here: 
ChangeFest on the Road – Clarence Plains will explore different ways for communities to collaborate so they can tackle complex problems and offer opportunities to learn to build the change they want to see
The idea is to dream a future where local people feel empowered to make change at a local level and be heard in state and national conversations.
ChangeFest on the Road – Clarence Plains is for local people and also for other communities across Tasmania who are practising or interested in a collective impact place-based change approach.
A co-design meeting took place at The Grace, Clarence Plains on 14th October, bringing community leaders together with young people, council workers, local services and supported by Dan, Chloe and Michelle from CMM – Social Change.