News ChangeFest 2023, the National Celebration of Place-based Change
September 7, 2023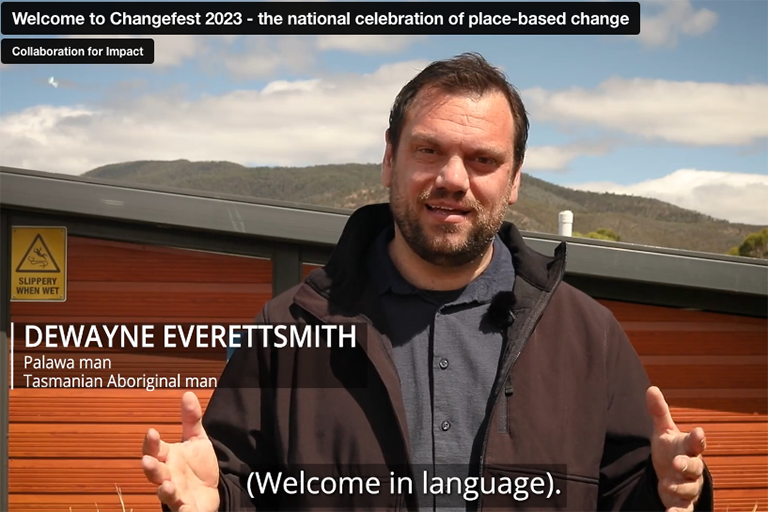 Earlier this year in March, over 500 people from across the country gathered to create yet another  rich celebration and learning of place-based change in Australia. The fourth meeting of the ChangeFest movement, ChangeFest would like to acknowledge and extend its immense gratitude to the 2023 local place-based host and partners Kutalayna Collective, and the Kutalayna/Jordan River community, on whose lands we celebrated, learned and deepened our connection with each other and with place in Lutruwita/Tasmania for ChangeFest23.
The event this year was unique in many things, and in particular one of the things that made it so special, was the diversity of people who came to learn with each other. People came from diverse communities right across the country, with different perspectives on how change happens, different roles in the ecosystem, and different types of power. This diversity is an ongoing strength of ChangeFest and critical for progressing the movement for place-based change in ways that centre the principles of the ChangeFest Statement.
The CF23 program was designed with the local Kutalayna community, communities across Lutruwita/Tasmania and with input from the wider movement across the country and co-convened by Collaboration for Impact, Kowa Collaboration, Health Justice Australia, and LaTrobe University.
A central theme of the event was exploring the different roles needed across the system to enable community led systems change – and the work it takes from all of us to work differently and truly step into the work of collaboration, from community, government, philanthropy and other funders, intermediaries and other organisations that work across the local to national level, and service providers. Across ChangeFest it was clear that the movement is committed to moving beyond silos to finding new ways to share leadership and centre community voice in decision making.
We had more diversity of speakers than ever before with over 100+ speakers across 30 breakout sessions, 3 x big stage sessions combined with a powerful keynote speech by Dr Jandamarra Cadd, and the cranking River Party. The CF23 program was beautifully hosted by the Material Institute and Kutalayna Collective, and our friends of Kutalayna Collective and ChangeFest, MCs Dewayne Everett-Smith and Sharon Watchell.
The richness of conversations, curiosity, story-telling, and coming together to learn and provoke deep questioning is what makes ChangeFest such a critical platform for sustaining the relationships and movement of community-led, place-based change in Australia. In the words of Jandamarra Cadd, justice and equity is possible only through the ongoing work of "eternal collaboration". We acknowledge the work this takes and how important this movement is for sustaining and deepening this work and way of being.
CF24 planning is now underway with our next local host community, Mildura, for March 2024 and a Save the Dates will be coming soon. In addition to CF24 in Mildura, ChangeFest will start to host smaller online and in person learning events either side of the large national gathering. We will be focusing on key themes raised in CF23 and topics that are central to strengthening the movement for place-based change. So stay tuned and make sure you are signed up to the ChangeFest mailing list for news and updates.